In today's rapidly evolving world, the importance of achieving the United Nations' Sustainable Development Goals (SDGs) cannot be overstated. Among these goals, SDG 9 holds particular significance as it focuses on building resilient infrastructure, promoting inclusive and sustainable industrialization, and fostering innovation. This goal serves as a critical foundation for societal growth and development, facilitating progress in various sectors and regions. In Africa, the collective efforts of National Research and Education Networks (NRENs) have played a pivotal role in advancing SDG 9 through the formation of Regional Research and Education Networks (RRENs).
SDG 9 lays the groundwork for driving economic growth, creating employment opportunities, and enhancing overall well-being. Robust infrastructure is crucial for connecting people, goods, and services, thus facilitating trade, investment, and economic integration. Additionally, fostering innovation and inclusive industrialization allows societies to harness technology's potential for social and economic advancement. The attainment of SDG 9 is integral to overcoming developmental barriers and unlocking Africa's true potential.
In Africa, NRENs have collaborated to form RRENs, which are instrumental in advancing research and education within their respective communities. A central aspect of their work is the provision of internet connectivity through the development of robust networks. These networks are designed to be resilient, scalable, and sustainable, ensuring longevity and adaptability to meet the continent's growing demands. The AfricaConnect project, led by four main RRENs (WACREN, ASREN, UbuntuNet Alliance and GÉANT) and co-founded by the European Union, has successfully built an extensive internet connectivity infrastructure across the continent. With numerous Points of Presence and links, this project has been an ongoing effort for twelve years (since 2011), continuously undergoing maintenance and upgrades to ensure sustainability.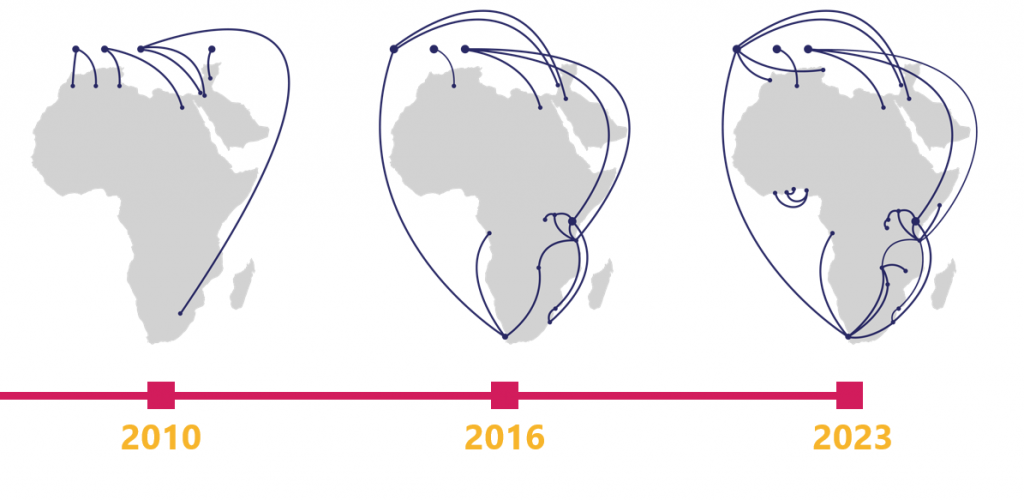 By establishing points of presence in member NREN countries, RRENs contribute to domestic technology development, research, and innovation in developing nations. Access to secure and affordable network infrastructure, including internet connectivity, has enabled African research and education institutions to leverage cutting-edge technologies for their academic pursuits and developmental initiatives. A prime example of this is the eduroam provided by various NRENs in the region which itself is built on resilient infrastructure, Notable examples include RENU in Uganda whose eduroam infrastructure extends to more than 400 sites across Uganda. GARNET in Ghana is also building a robust eduroam coverage across top-tier tertiary institutions across the country. The eduroam service represents resilient infrastructure that empowers students and researchers with seamless and secure access to the internet, supporting their academic and innovative endeavors.
Moreover, NRENs have been instrumental in the establishment of High-Performance Computing (HPC) centers across Africa. Centers like MAREN, ZAMREN, and KENET serve as resilient infrastructure supporting data science and advanced research, fostering innovation and addressing complex developmental challenges. The role that these HPC centers play in providing data necessary to drive development in their countries cannot be understated.
Furthermore, NRENs and RRENs play a crucial role in fostering innovation in research and education throughout Africa. Through various initiatives, such as capacity-building events, workshops, and conferences, they equip the research and education community with the necessary tools for innovative development. These events are organized throughout the year are aimed at empowering academics and researchers with the latest knowledge and skills, stimulating innovation that aligns with the continent's developmental priorities.
The pursuit of SDG 9, with its focus on resilient infrastructure, inclusive industrialization, and innovation, is essential for Africa's progress. Thanks to the collaborative efforts of African NRENs and RRENs, significant strides have been made in internet connectivity, the establishment of HPC centers, and fostering innovation through capacity-building events. These resilient infrastructures serve as the bedrock for sustainable development, fueling advancements in research, education, and technology for the betterment of African societies and beyond.
For more information, visit https://africaconnect3.net/sdgs-info-centre/
This story was originally posted on the AfricaConnect3 Website: https://africaconnect3.net/advancing-sdg-9-african-rens-role-in-building-resilient-infrastructure-and-fostering-innovation/