On April 21, 2023, five teams from across Kenya gathered at the Nairobi Safari Club to kick-off the Kenya phase of a project to develop emerging digital technology (EDT) applications for socio-economic development. The project is led by the University of Nairobi with UbuntuNet Alliance and the University of Johannesburg as partners. The Alliance together with KENET are providing technology and infrastructure support. You can read more on the teams and their projects here.
The project involves establishing a deep understanding of the EDT/X-Data ecosystems; build capacity and support networking of researchers, entrepreneurs, decision-makers and policy-makers; and support multi-disciplinary teams to develop EDT/X-Data based applications. X-Data collectively refers to four overlapping data categories: big data, open data, user-generated data, and real-time data. More on the project can be found here.
Facilitated by Prof Patrick Ogao (KCA University, Nairobi) and Prof Muthoni Masinde (Catholic University of Technology, South Africa) the kick off also included training on several topics important to the development of EDT applications including: EDT and X-Data applications-key issues in leveraging EDT/X-Data based applications for socio-economic development; Intellectual property, commercialisation, data protection and privacy, gender equity, social inclusion; and EDT/X-Data applications for socio-economic development – National strategies.
The day concluded with the establishment of the Kenya Emerging Digital Technologies Research Network that runs on the WhatsApp platform. Anyone wishing to join should send an email to madaraogot@ubuntunet.net and provide your WhatsApp phone number.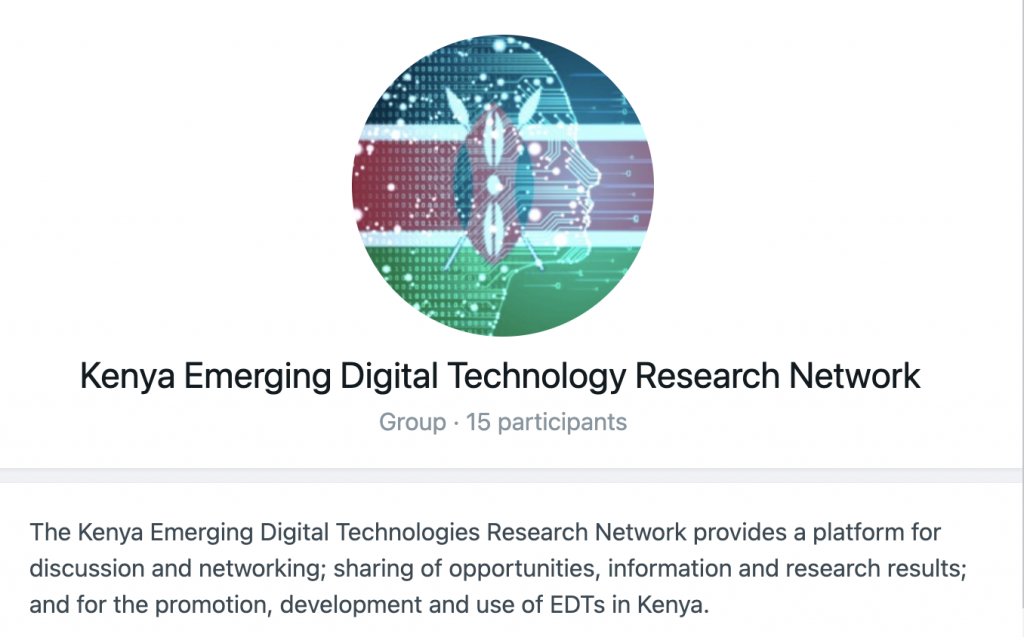 The project entitled, "Ecosystem Strengthening as a Catalyst for International Collaborative Development of Emerging Digital Technologies (EDT) and X-Data Applications Tackling Socio-Economic Challenges in Kenya and South Africa." is funded by the RISA Fund.