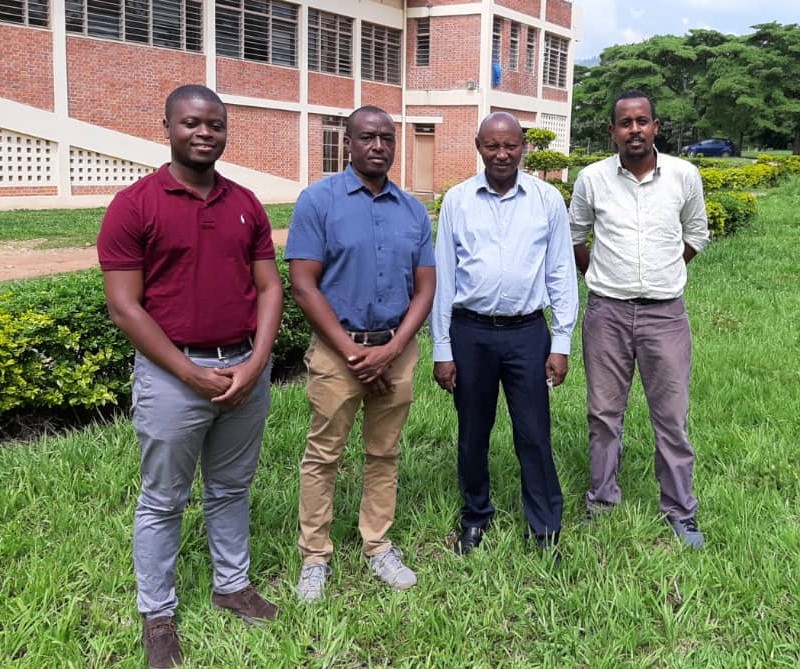 PRESS RELEASE
18th November 2019/Lilongwe, Malawi and Bujumbura, Burundi:
Hundreds of students and researchers from at least 15 institutions of higher learning and research centers in Burundi will now be able to optimize their research and education collaboration initiatives following the successful completion of the connection of the Burundi Education and Research Network (BERNET) to the UbuntuNet Network, the data communications network for Research and Education for Eastern and Southern Africa.

Connection of BERNET to the UbuntuNet regional backbone comes under the €26.6m European Commission co-funded AfricaConnect2, the Pan African project aimed at interconnecting National Research and Education Networks (NRENs) within the three Regional Research and Education Networks on the African continent namely; the Arab States Research and Education Network (ASREN), the West and Central African Research and Education Network (WACREN) and UbuntuNet Alliance and connecting them to GEANT in Europe and through GEANT to other regional RENs globally.

Tests on the 10-year long-term leased 500Mbps link from the UbuntuNet Alliance Point of Presence (PoP) in Kigali, Rwanda to a new PoP in Bujumbura, Burundi were successfully completed by the UbuntuNet Alliance engineers on Thursday, 14th November 2019 effectively connecting the Burundi NREN to 11 other NREN Members connected to the UbuntuNet Network and to the internet in general.

The connection is expected to be a game changer for the Burundi Research and Education networking community operating in a country where fiber internet connectivity prices are high.

Reacting to the news, UbuntuNet Alliance Board Chairperson, Prof. Stephen Simukanga said: "The Connection of the Burundi Research and Education Network to the UbuntuNet Network is great news for our community as it shows that UbuntuNet Alliance is growing. As UbuntuNet Alliance, we are proud of BERNET and ready to offer our support towards further growth and development of the NREN."

UbuntuNet Alliance CEO, Eng. Dr. Matthews Mtumbuka says: "UbuntuNet Alliance is pleased to connect BERNET under the AfricaConnect2 project. The connection of BERNET will not only bring down the cost of internet connectivity but will also fully integrate the NREN into the UbuntuNet community so that it can maximize its benefits of belonging to a Regional Research and Education Network. This connection also edges us closer to achieving our long term objective of connecting all NRENs in our membership region."

BERNET CEO, Prof. Gregoire Njejimana says: "The connection of BERNET to UbuntuNet Network is news that universities and research institutions in Burundi have been waiting for in a very long time. Over the past four years we have, with the help of UbuntuNet Alliance and other stakeholders, worked tirelessly to make this dream became a reality and we are now happy to learn that just like our peers in other countries within the region, we too can now fully benefit from the affordable, high speed and reliable internet connectivity and other research and education collaboration tools and services from UbuntuNet Alliance. We are very grateful to the Alliance, the European Commission, the AfricaConnect2 project and other NRENs for their support in bringing BERNET thus far."
BERNET becomes the 12th NREN to connect to the UbuntuNet Network after the Democratic Republic of Congo (DRC) National Research and Education Network, Eb@le; the Kenya Education Network (KENET); the Malawi Research and Education Network (MAREN); the Mozambique Research and Education Network (MoRENet); the Research and Education Network of Uganda (RENU); the Rwanda Education Network (RwEdNet); the Somali Research and Education Network (SomaliREN); the Tertiary Education and Research Network of South Africa (TENET); the Tanzania Education and Research Network (TERNET); Zambia Research and Education Network (ZAMREN) and the Zimbabwe Academic and Research Network (ZARNet).
About UbuntuNet Alliance
UbuntuNet Alliance is the regional Research and Education Networking organisation for Eastern and Southern Africa. It plans, builds and operates UbuntuNet, the regional high-speed internet network dedicated to research and education in Eastern and Southern Africa. The Alliance also promotes and supports the integration of advanced ICT services and tools in research, teaching and learning, taking advantage of the opportunities that come with the Internet.
The Alliance was established in the latter half of 2005 by five established and emerging National Research and Education Networks (NRENs), namely MAREN (Malawi), MoRENet, (Mozambique), KENET (Kenya), RwEdNet (Rwanda) and TENET (South Africa). The Membership region of the Alliance spans across Eastern and Southern Africa, covering 26 countries. Currently, 16 countries have joined the Alliance and are at different stages of development. The Alliance is incorporated as a Trust in Malawi and has its secretariat in Lilongwe, Malawi and a technical hub in Kampala, Uganda.

About BERNET
The Burundi Education and Research Network (BERNET) was formed in 2014 with the aim of interconnecting the country's universities and providing affordable bandwidth to the universities. BERNET currently has 15 member institutions that are connected to the NREN's local backbone.

About AfricaConnect2
AfricaConnect2 is an EU-funded pan-African connectivity project with a total budget of €26.6m covering a period of 4 years. It aims to support the development and consolidation of high-capacity regional internet networks for R&E across Africa and their interconnection with the pan-European GÉANT network, creating a continental gateway for collaborative research and education across and beyond Africa.
Further Press Information:
Hastings Ndebvu
Communications Officer/ UbuntuNet Alliance
Cell: +265999029434
Email: hastings.ndebvu@ubuntunet.net
Skype: hastings.ndebvu
Twitter: @UbuntuNet
www.ubuntunet.net