The recent Conference of Rectors and Vice Chancellors (COREVIP) 2023, organized by the Association of African Universities (AAU) and hosted by the University of Namibia (UNAM) in Windhoek, Namibia, proved to be a remarkable event for UbuntuNet Alliance. Attending as an exhibitor, UbuntuNet Alliance had the opportunity to network with key stakeholders in higher education, showcase their initiatives, and contribute to the discourse on advancing excellence in African higher education. The conference, held from 4th to 7th July 2023, focused on successful initiatives, interventions, and outcomes in African higher education, emphasizing key enabling elements within various sub-themes.
UbuntuNet Alliance's presence at the COREVIP 2023 conference provided a valuable platform for the ground work in discussions regarding the re-establishment of a Namibian NREN, collaboration, engagement, and knowledge sharing among Vice Chancellors from across Africa. The conference was well-attended, and impactful presentations by stakeholders in higher education added depth and perspective to the discussions. The University of Namibia deserves commendation for their exceptional support and organization, ensuring a successful event.
At the exhibition booth, UbuntuNet Alliance showcased a range of solutions and initiatives in research and education. One of the notable offerings was Utafiti Africa, a service that aids African researchers in accessing grant funding by aggregating opportunities in one convenient location. Attendees were particularly interested in this solution, as it simplifies the process of finding relevant funding opportunities based on country of origin and discipline. Additionally, we increased awareness of our annual conference, UbuntuNet-Connect 2023, scheduled for 26th and 27th October 2023 in Uganda, to be hosted by RENU. The early bird registration period allowed interested stakeholders to secure their attendance. You can do the same via the link: https://ubuntunet.net/uc2023-registration/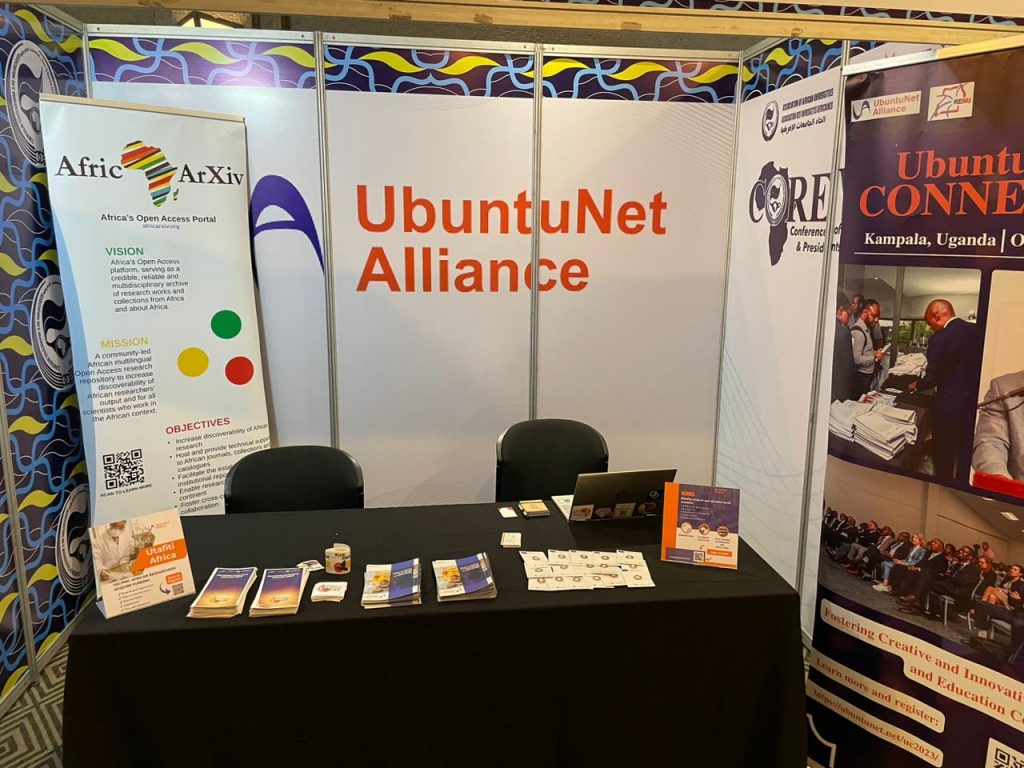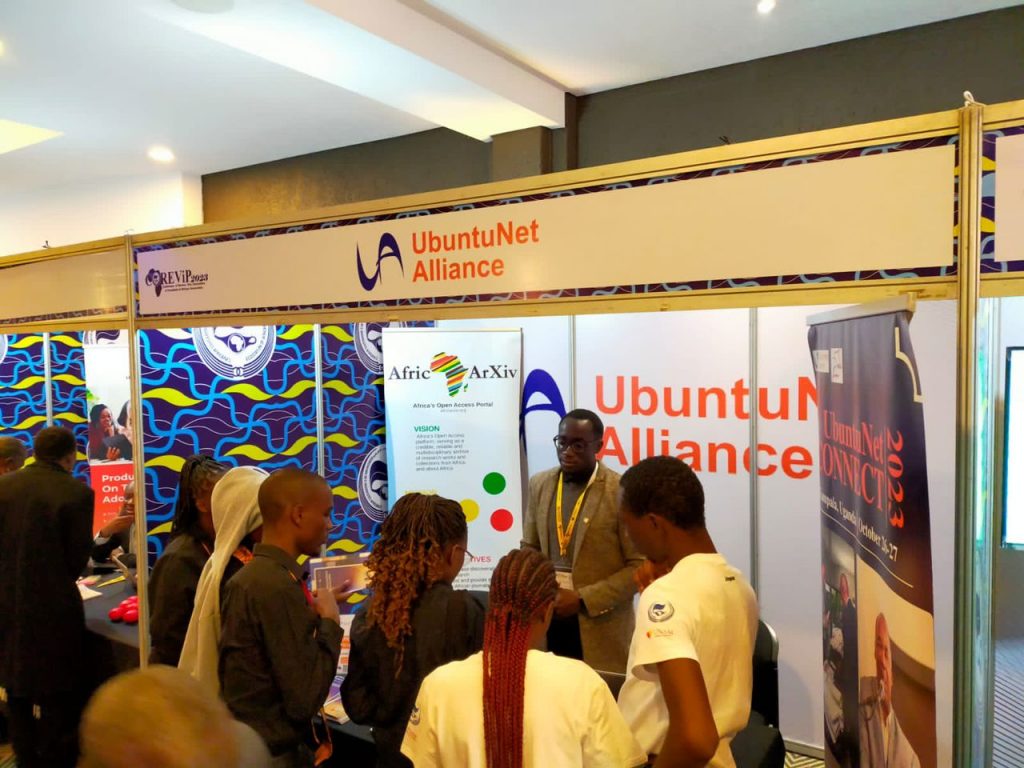 The booth also provided an opportunity to promote the AfricaConnect3 project under which multiple initiatives are carried out. Participants were happy to hear of the internet connectivity backbone which has been put in place under the project and co-funding of the European Commission. News of further upgrades was well received, particularly by Namibian participants as they are yet to have an NREN established. The capacity building initiatives held under the project were also met with enthusiasm.
UbuntuNet Alliance's collaboration with AfricArXiv, an initiative aimed at establishing an Africa-wide repository hosted on UbuntuNet Alliance Open Source Cloud, garnered significant interest. This partnership will assign ORCID and DOIs to content, providing African researchers with a reliable and accessible platform for sharing their work. The positive reception of this initiative reflects the growing recognition of the importance of open access and the need for African researchers to have a dedicated space to showcase their contributions.
In addition to engaging with academic stakeholders, UbuntuNet Alliance had the opportunity to connect with various private sector players who expressed interest in supporting the community's initiatives on a regional level. These interactions hold promise for fruitful collaborations in the future, as UbuntuNet Alliance continues to build partnerships that foster the growth and development of African higher education.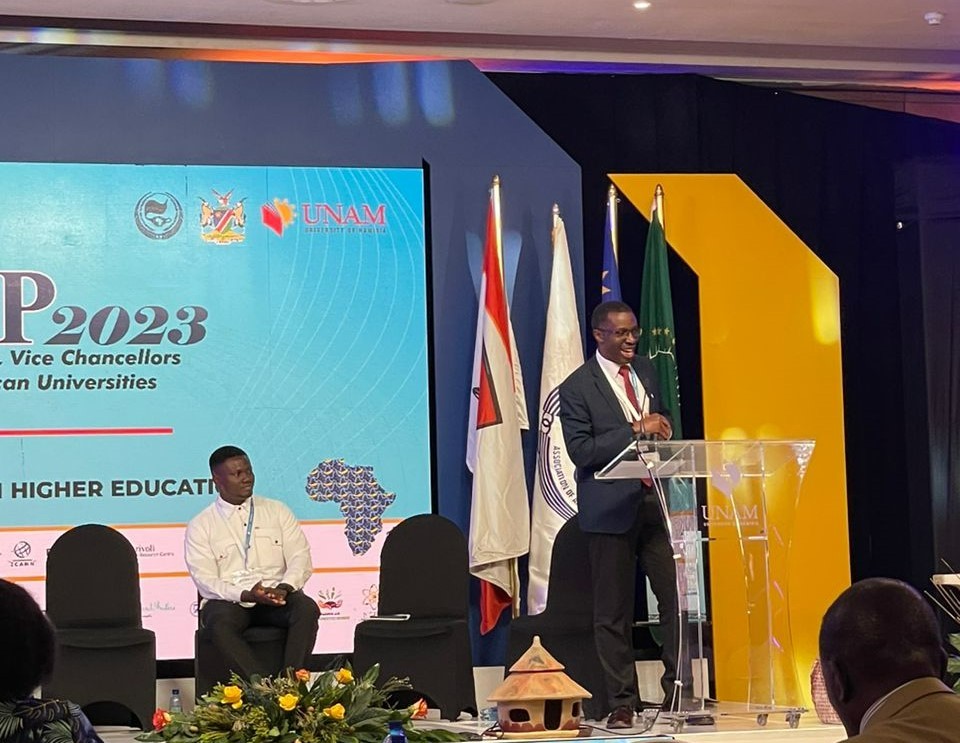 The CEO of UbuntuNet Alliance participated in a panel discussion which saw him deliver a presentation on driving teaching and learning excellence through academic and partner collaborations. During the session, the CEO highlighted the initiatives implemented by UbuntuNet Alliance to enhance the production of African textbooks by African researchers. By promoting and supporting local authors, UbuntuNet Alliance aims to enrich the educational resources available to African students and contribute to the growth of academic excellence across the continent.
UbuntuNet Alliance extends warm congratulations to the Association of African Universities (AAU) and the University of Namibia (UNAM) for their exceptional organization and successful execution of COREVIP 2023. The conference provided a crucial platform for networking, collaboration, and knowledge sharing among African higher education institutions. UbuntuNet Alliance expresses gratitude to AAU and UNAM for their unwavering commitment to advancing excellence in African higher education and for their instrumental role in fostering meaningful dialogue and partnerships within the sector.