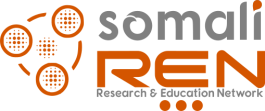 SomaliREN | Somalia
http://somaliren.org
info@somaliren.org
+252 612 69 79 79

Contacts
CEO:  Abdullahi Bihi Hussein
CTO: Ahmed Dahir Siyad
Address
SomaliREN
Airport Road
Wadajir District
Mogadishu
Somalia
SomaliREN is a non-profit organization whose mission is to interconnect its member institutions among themselves, and with their international peers exploiting ICTs in an effort to facilitate collaborative research, taking advantage of the combined purchasing power to subsidize the exorbitant bandwidth costs and promoting research. The NREN is a utility organization owned by the member universities; and as such exists as a non-governmental organization.
The NREN was born in 2006 after the Vice Chancellors and CEOs of selected Somali higher education and research institutions met and resolved to create the Somali Research and Education Network after a study tour to Kenya, Tanzania and South Africa.
SomaliREN's efforts are currently focused on the development of the ICT capabilities of the member organizations to facilitate connectivity among them and also connect them to the UbuntuNet Alliance network. This is a first step towards building a suitable network infrastructure for e-learning and cross-border research collaborations. The bottom-line is to empower the higher education sector to have a tangible role in the development and rebuilding of the Somali society.
Due to the circumstances, the NREN plans to operate separate network segments to be interconnected later, with Wireless Radio links between 3 member universities in Mogadishu, and a soon-to-be commissioned experimental fiber ring in Hargeisa in the north.
Envisaged services include a video-conferencing facility, a central storage and file repository, and a shared e-Learning platform in addition to sharing Internet connectivity in the very near future.