On 31st August 2021, Professor Hellicy Ng'ambi, the Vice-Chancellor of Mulungushi University, one of the main public universities in Zambia, officially retired from her position, bringing to an end an illustrious 9-year long distinguished career as the first female Vice-Chancellor Zambia and over 38 years of service to higher learning in Zambia, Africa and United States of America.
Prof Ng'ambi, a household name in the education sector in Zambia, South Africa, Botswana, USA and a holder of several influential positions in the field and beyond, was appointed Vice-Chancellor of Mulungushi University on 1st September 2012 becoming the first female Vice-Chancellor in Zambia where she launched her career in academia as a lecturer at the University of Zambia in 1984.
Since then, the Zambian charismatic leader and academician has risen through the ranks and file of many private and public institutions including doubling as a Vice Chancellor for the Kwame Nkrumah College of Education during the institution's transformation into the Kwame Nkrumah University between 2017 -2020.

Sound leadership and impact

She was appointed the Board Chairperson for the Zambia Research and Education Network (ZAMREN), the Vice-Chairperson of UbuntuNet Alliance, the Vice-Chairperson of the Board of Directors of the Central Bank of Zambia and the Vice-Chairperson of the Citizen Economic Empowerment Commission among other many positions.
Her impact and achievements at the University of Mulungushi alone are otherworldly.
"My team and I have achieved a lot of things during our time in terms of infrastructure, academic and financial development of the University. We have managed to put in place a lot of infrastructure that was not there. These include lecture theatres, student hostels, conference centers and classrooms. We are the only University in Zambia that has a Moot court where student lawyers practice their trade and recently, the Moot Court will soon be used by the government to try actual cases which is one way of generating income for the university. All of these accomplishments have made it to be the University of choice in Zambia."
Talking of income generation for the University, Prof Ng'ambi boasts that her 9-year tenure as VC has been characterized by stability in terms of balancing the accounts sheets.
"Even though it is a public university, Mulungushi University gets just 15 percent of its total annual budget from the government and the university has to raise the reaming 85 percent. To achieve this we launched several business ventures for income generation and from these ventures, we have been able to pay staff salaries in time and balance our sheets," says the UbuntuNet Alliance Board Member.

A people-centric leader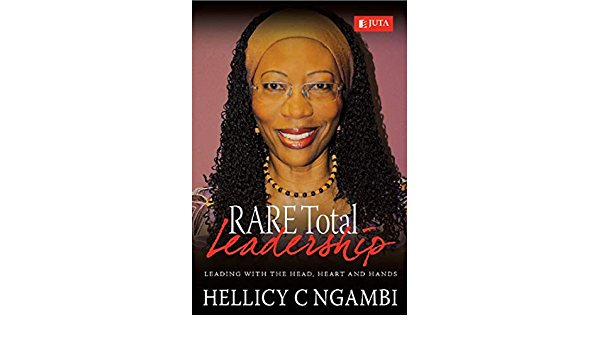 So what has been the secret behind Prof. Nga'mbi's enviable leadership and success at Mulungushi University and in her career in general?
"At the center of it all, it's the grace of God," she says
"I am people-centered. I value people because I am aware that it is the people that make you succeed so I make sure that I get everybody on board. However, I ensure that I do not put friendships above institutional interests. I also emphasize a lot about having appropriate value systems. That's why I always talk about the Responsible, Accountable, Relevant and Ethical (RARE) values. I believe education without values cannot guaranteed sustainable success. I have used these values for my success and the success of others. At Mulungushi University, we have enshrined these values in the strategic plan and have introduced a signature course where these values are taught to all first-year students."
What next?
Now, what next for the Business Leadership Professor?
"I will continue to do what I am passionate about which is adding value. My vision is to instigate change, influence behavior and impart RARE values for productive, peaceful and sustainable futures. My mission is to transform leaders, individuals, communities and nations from being toxic and destructive to being stewards of the resources entrusted to them for sustainable livelihood. I have registered a consulting firm called Mutepa RARE Solutions Consultancy where we will be empowering people with the appropriate value systems," says Prof Ng'ambi who holds a Doctorate in Business Leadership, a Master of Science in Management, a Master of Business Administration and a Bachelor of Arts Degree among other qualifications. She is an ACE (American Council on Education) fellow and prosci certified change management expert.
"We want to teach people and make them understand that it doesn't matter how much hungry they are, they do not need to steal. It does not matter how much of a hurry they are, they do not have to do bribes, to be toxic or compromise their values. They need to be ethical and achieve the legal success that is sustainable."
Any chance of joining mainstream politics. For Professor Ng'ambi, it is a resounding no!
"No. I do not have those plans. I know people say, 'never say never', but for me, I want to continue pursuing my passion; imparting in people RARE value based skills."
Contacts:
Prof. Dr Hellicy C. Ng'ambi
CEO: Mutepa RARE Solutions
PO Box 80336 KABWE, ZAMBIA
Cell: +260-974794998/ 969517400
Email: rare.solutions@muteparare.com
Email: hngambi@gmail.com
Website: www.muteparare.com