UbuntuNet-Connect 2020
18. November 2020

-

20. November 2020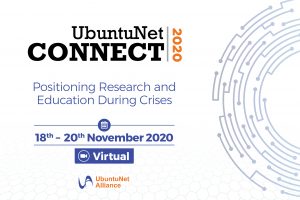 We are proud to announce that UbuntuNet-Connect 2020 will be held as a Virtual Event from 18 to 20 November 2020 under the theme, Positioning Research and Education During Crises. As a virtual event, the conference will be held different from the way we all know it. We will have 2 exciting 2-hour sessions per day during the three days, each focusing on a particular sub-theme.
The rationale for this theme is as follows…
National Research and Education Networks (NRENs) exist in 38 countries in Africa – albeit at different stages of development – with the primary role of connecting research and education institutions and providing them with other value-added services driving digital transformation. When Covid-19 spread around the globe, while education and research institutions in the global north immediately moved their activities online, peer institutions in most of Africa simply shut down, sending millions of learners home and disrupting their education.
One can argue that the reaction of the African research and education community to covid-19 clearly shows that the institutions were not ready to handle crises of that magnitude. UbuntuNet-Connect 2020 will therefore be held around the theme: Positioning Research and Education During Crises, to provide a forum for all stakeholders in the research and education networking community to discuss solutions, proposals, projects, initiatives and ideas of ensuring that NRENs and the communities they serve are well positioned to ensure business continuity in the face of crises and pandemics.