Lilongwe, Malawi, 28 July 2014: UbuntuNet Alliance, the research and education network for Eastern and Southern Africa; and DANTE, the operator of GÉANT, the pan-European research and education network, today announce the commissioning of the UbuntuNet network, the regional high-speed Internet network connecting researchers, educators and students in Eastern and Southern Africa to their peers in the region and to Europe.
The African research and education community has for far too long carried the burden of slow Internet connectivity which has consequently widened the gap between the continent's researchers and their peers globally. The establishment of national research and education networks (NRENs), the regional UbuntuNet Alliance, and the kick off of the AfricaConnect are milestones transforming the research and education landscape on the continent.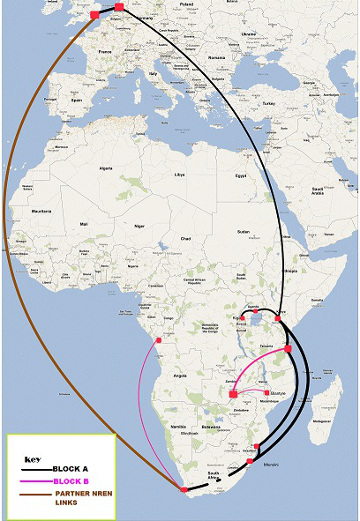 Today through the collaboration with GÉANT, the UbuntuNet network is boosting EU-African collaboration, bringing research and educational opportunities unprecedented in Africa.  The implications for socio-economic development go far beyond anything we could have dreamed of before, putting African research on the map and transforming the lives of millions. I am very proud that GÉANT is the first R&E network to connect to Africa!
Cathrin Stöver
The rollout of the UbuntuNet network has been implemented in two phases based on country readiness to connect to the regional network. Block A, which was completed in February 2014, procured equipment to establish Points of Presence (PoPs) in Mtunzini, Maputo, Dar es salaam, Nairobi, Kampala and Kigali, and to upgrade the Ubuntunet Alliance PoP in London.  High capacity cross border links interconnecting these PoPs to create a regional research network were also procured under this phase, as well as a transcontinental link between Nairobi and the Ubuntunet Alliance's PoP in Amsterdam.  The first phase serves a total of six NRENs namely TENET (south Africa), MoRENet (Mozambique), TERNET (Tanzania), KENET (Kenya), RENU (Uganda) and RwEdNet (Rwanda), and forms the backbone on which the network to serve the entire Alliance region will be created.
Block B included procurement of equipment and installation of high capacity cross-border links connecting the NRENs including; Eb@le (Democratic Republic of Congo), MAREN (Malawi) and ZAMREN (Zambia). The link between Dar es Salaam in Tanzania and Lusaka in Zambia was completed at the end of May 2014 drastically reducing connectivity costs to nearly nothing for the Zambian research and education community. Links from Lusaka to Blantyre in Malawi, and from Cape Town to Moanda in DRC will be completed in the near future.
A major immediate impact of the network is that connectivity costs have dropped from a regional average of $4000 per megabit per second per month to $135per megabit per second per month indicating a 97 percent price reduction in just four years!
This shows that the progress of rolling out the UbuntuNet network has unfolded at an impressively good pace and Chief Executive Officer of UbuntuNet Alliance, Eng. Dr Tusu Tusubira does not hide his joy at this amiable stride in promoting research and education networking in the region.
We are delivering international and regional bandwidth to NRENs in these counties at a consolidated price of $135 per megabit per second per month. I find this exciting, because, at last we have eliminated one barrier to regional participation in global research and education collaboration
Dr Tusubira
As you know we have bioinformatics research currently being conducted in Zambia at the Copperbelt University, this is one of the research areas that will benefit from this link
Bonny Khunga
Apart, from lowering the cost of bandwidth, providing resilience is yet another benefit to the ZAMREN network. In addition, the new UbuntuNet circuit between Dar es Salam and Lusaka is expected to contribute significantly to improved health research in bioinformatics in Zambia says Bonny Khunga, ZAMREN CEO.
Impressively, through the AfricaConnect project, more countries have been connected to the UbuntuNet network than initially envisaged. The Alliance is grateful for the assistance rendered by the European Commission in helping to scale-up rollout of the regional component of the UbuntuNet network. These strides would also not have been possible without the partnerships and rapport between DANTE, UbuntuNet Alliance, WACREN and respective partner NRENs.
AfricaConnect has birthed a more resilient and secure high-speed network that offers greater connectivity between African countries, as well as high-speed links to the pan-European GÉANT. Economically, the UbuntuNet network is gradually pushing countries in Eastern and Southern Africa towards realizing the MDGs through improved ICT.
For more information contact:
Patricia Mtungila – Communications Officer,
UbuntuNet Alliance,
Lilongwe, Malawi.
Tel/Fax: +265 1 754 535
Email: pmtungila@ubuntunet.net, info@ubuntunet.net
About UbuntuNet Alliance
UbuntuNet Alliance is the regional research and education network for Eastern and Southern Africa. It was established in 2005 as a not-for-profit regional association of National Research and Education Networking (NRENs) in Eastern and Southern Africa. Its current membership consists of 14 NRENs: DRC (Eb@le), Ethiopia (EthERNet), Kenya (KENET), Madagascar (iRENALA), Malawi (MAREN), Mozambique (MoReNet), Namibia (Xnet), Rwanda (RwEdNet), Somalia (SomaliREN), South Africa (TENET), SudREN (Sudan), Tanzania (TERNET), Uganda (RENU) and Zambia (ZAMREN). The Alliance works towards enabling collaboration in research and education over world class networks, and has the primary responsibility for the regional research and education data network, UbuntuNet. For more information, visit www.ubuntunet.net.
About GÉANT
GÉANT is the pan-European research and education network that interconnects Europe's National Research and Education Networks (NRENs). Together we connect over 50 million users at 10,000 institutions across Europe, supporting research in areas such as energy, the environment, space and medicine.
Operating at speeds of up to 500Gbps and reaching over 100 national networks worldwide, GÉANT remains the largest and most advanced research and education network in the world.
Co-funded by the European Commission under the EU's 7th Research and Development Framework Programme, GÉANT is a flagship e-Infrastructure key to achieving the European Research Area – a seamless and open European space for online research – and assuring world-leading connectivity between Europe and the rest of the world in support of global research collaborations.
The network and associated services comprise the GÉANT (GN3plus) project, a collaborative effort comprising 41 project partners: 38 European NRENs, DANTE, TERENA and NORDUnet (representing the 5 Nordic countries). GÉANT is operated by DANTE on behalf of Europe's NRENs.
About DANTE
DANTE (Delivery of Advanced Network Technology to Europe) is a non-profit organisation established in 1993 that plans, builds and operates large scale, advanced networks for research and education.
On behalf of Europe's NRENs, DANTE has built and operates GÉANT, a flagship e-Infrastructure key to achieving the European Research Area. Working in cooperation with the European Commission and in close partnership with Europe's NRENs and international networking partners, DANTE remains fundamental to the success of global research collaboration.
DANTE currently manages research and education networking projects serving the Mediterranean (EUMEDCONNECT), Sub-Saharan Africa (AfricaConnect) and Central Asia (CAREN) regions and Europe-China collaboration (ORIENTplus), as well as assisting the projects underway in Latin America (RedCLARA), Caribbean (CKLN) and Asia-Pacific (TEIN). For more information, visit www.dante.net.
About AfricaConnect
The AfricaConnect project aims to establish a high-capacity Internet network for research and education in Southern and Eastern Africa to provide the region with a gateway to global research collaboration. It is partly funded by the European Commission's DG Development and Cooperation – EuropeAid, in the framework of the 'ACP Connect' programme of the African, Caribbean and Pacific Group of States (ACP), which has injected €11.8M of the total €14.75M cost of the project through the AfricaConnect project. The remainder is being contributed by the African partners in the project.
The AfricaConnect is strongly collaborative, with DANTE coordinating the project and the UbuntuNet Alliance, DANTE's regional counterpart organisation in Africa covering Eastern and Southern Africa, implementing the infrastructure.  Other parties participating include the West and Central African Research and Education Network (WACREN) – as well as the Association of African Universities; existing National Research and Education Networks (NRENs) in Africa (DRC, Ethiopia, Kenya, Malawi, Mozambique, Madagascar, Namibia, Rwanda, Somalia, Sudan, South Africa, Tanzania, Uganda and Zambia); and several European NRENs (Germany, Ireland, Italy, the Netherlands, Portugal and the UK). All of the organisations work to ensure that the project benefits all of sub-Saharan Africa. For more information visit www.africaconnect.eu